HOME > 201104
201104 Archive
Posted by:

rem

2011-04-25 Mon 17:16:45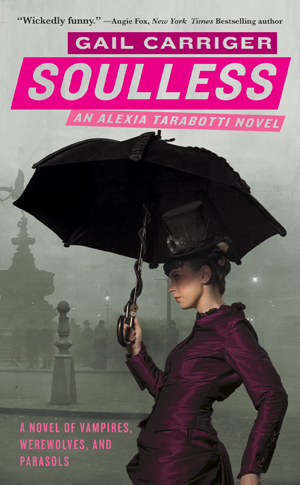 Yaaaaayyy~!!
I've finally been given the green light on spilling the beans to you guys about my new project!
The no-longer secret secret is a comic adaptation of
SOULLESS
, the super awesome victorian steampunk novel written by
Gail Carriger
, illustrated by me, and published by
Yen Press
!
The Soulless comic will be launched officially at Comic Con in San Diego July 21.
It will be serialized in
Yen Plus
, a monthly online anthology
starting July 11
, and as a full book next spring! YAYYY! (≧▽≦)
I've been into Victorian Era culture for a while now and have been working hard to study the intricacies of 19th cen. British life. So you can imagine how lucky I felt when I was offered the chance to work on Soulless, which itself is oozing with glorious Victorian era goodness! Being able to work with this subject matter is so much fun for me~~!
Did I mention there are also werewolves? Yes, dirigibles AND werewolves!
(...vampires, too, of course, but more like the "Interview with a Vampire" type more so than the "Twilight" variety, thank goodness =.=;)
The books have a lot of humor and action and danger in them... and plenty of tea and parasols as well. I feel like I'm getting to have my cake and eat it too.
SO! To promote the launch of the Soulless comic, Gail will be posting one of my character designs sketches for the book every other week on Monday until the official launch~
To check out her first post,
go here
!
ALSO~
In other news, I will be attending
A-kon 22 in Dallas, June 10~12
as a GUEST this year!
I'll be in artist alley if you want to say hi! ヾ(*`∀´*)ノ
Now back to work for me!!
Fiiighhhto~!!
HOME > 201104
Calendar

« 2011 04 »

| S | M | T | W | T | F | S |
| --- | --- | --- | --- | --- | --- | --- |
| - | - | - | - | - | 1 | 2 |
| 3 | 4 | 5 | 6 | 7 | 8 | 9 |
| 10 | 11 | 12 | 13 | 14 | 15 | 16 |
| 17 | 18 | 19 | 20 | 21 | 22 | 23 |
| 24 | 25 | 26 | 27 | 28 | 29 | 30 |

Profile

Author:rem
illust/work log

◎ for inquiries:
blackmoontides [at] gmail dot com

commission status: CLOSED

portfolio
DA
pixiv
twitter
tumblr
inspiration log

Latest journals

Monthly archive

Category
Tag Cloud

Link

Feeds

Search